Erin Thompson, PharmD, BCPS, BCACP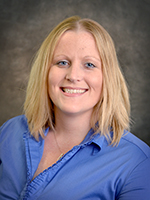 Dr. Thompson earned her BSPS and PharmD degrees from the University of Toledo and completed an PGY1 pharmacy residency at the University of Toledo Medical Center. She also holds a BSEd degree from Bowling Green State University and is a licensed Integrated Science Teacher in the State of Ohio for grades 7-12. Dr. Thompson is a licensed pharmacist in the states of Ohio and Michigan, and she has experience in both the community and inpatient pharmacy settings. In addition to her role as Assistant Professor of Pharmacy Practice at the University of Findlay College of Pharmacy, she practices part-time as a clinical pharmacist at the Toledo Clinic, Inc, in Toledo, Ohio.
Articles
Mar 13, 2018 @09:20 AM
Biogen and AbbVie recently announced a voluntary, worldwide withdrawal of daclizumab (Zinbryta®).
---
Jun 23, 2017 @12:33 PM
Digital Eye Strain (also known as computer vision syndrome) and blue light is not something I imagine is covered in many colleges of pharmacy across the country. It is the physical discomfort that is felt after spending more than two hours in front of a digital device screen. In addition to eyestrain, symptoms of computer vision syndrome can include: headaches, blurred vision, dry eye, neck and shoulder pain. Although the use of any digital device can cause digital eye strain, according to The Vision Council, devices that are most commonly used are: desktop computers, laptop computers, televisions, smartphones, tablets, and video games. In the age of technology, digital eye strain is something that all pharmacists should know about; not only to help patients protect their vision, but to help protect and preserve their own vision.